| | |
| --- | --- |
| | All around Coit Tower is a great place to take panoramic photos of the San Francisco Bay and see both bridges from the top of Telegraph Hill. |
| | |
| --- | --- |
| | Note: The bus is wheelchair accessible, but they do not take wheelchairs on the elevator to the top of the tower because it does not go all the way to the top, you have to walk up a flight of stairs at the top. |
The Coit Tower sits atop Telegraph Hill, it is 210 feet tall. The tower was built with funds left to the city by Lillie Hitchcock Coit.

Coit Tower was built in 1933 as a memorial to San Francisco's fire fighters that fought the fires during the earthquake in 1906. Some people say that the tower looks like the nozzle on a fire hose. Coit Tower is open daily from 10:00 am until 6:00 pm.
Inside Coit Tower the lobby has murals painted during the Depression, a gift shop, and a elevator that takes you to the top of the tower.

The murals are colorful and show what life was like during the 1930's. They are painted on every wall in the circular lobby that surrounds the gift shop and the elevator.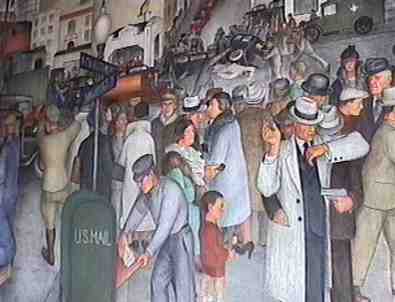 This section of the mural shows what downtown life was like in the 1930's. It is not much different today, most of the old buildings are still there, the cable cars and trolleys are still running, and the streets are still full of people.
| | |
| --- | --- |
| | This photo was taken at the top of the tower, to get there you have to ride the elevator, and they charge $3.50 to go up. When the elevator reaches the top you still need to walk up a winding stairway to the viewing room at the top. The windows are all covered with glass and the reflection on them makes it difficult to take good photos. |
| | |
| --- | --- |
| | This photo was taken outside the Coit Tower. We are now looking toward the south, the tall pointed building is the Transamerican Pyramid Building which is San Francisco's tallest building, towering 853 feet above the city. |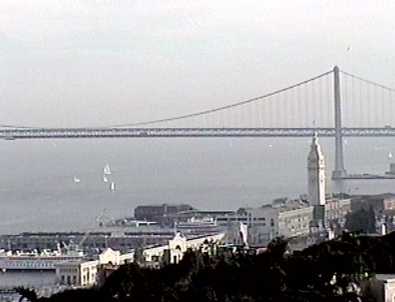 If you look to the south east you can see the Bay Bridge that links San Francisco to the East Bay. The tall building with a clock tower on top is the Ferry Building which sets at the foot of Market Street, we will be going there later. Those white dots under the Bay Bridge are sailboats, the fog was starting to roll in the day I went to Coit Tower. The best time to come to Coit Tower is on a very clear day.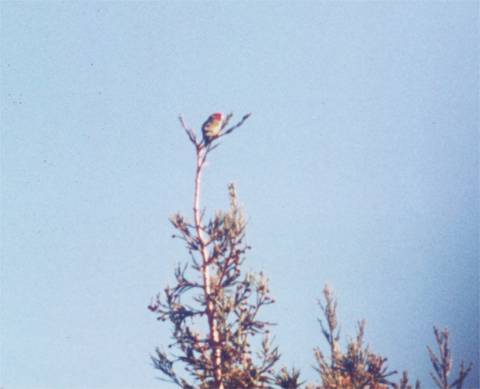 There is one thing about Telegraph Hill many people living in San Francisco do not even know about. Several years ago two parrots escaped from their cage and flew outside. Now, many years later, you can see a flock of about 100 wild parrots flying around and living on Telegraph Hill. While you are at Coit Tower you may see or hear them flying around, they are green and yellow, and they make a loud squawking noise as they fly. Maybe someday you may see wild parrots flying all over San Francisco.
---
The next stop on my Photo Tour is the "Trail to Fort Mason", to go there Click Continue Tour below.
---
---
Copyright © 1998- www.SFPhotoTour.com
All Rights Reserved
Photographed and created by David T. Smith