| | |
| --- | --- |
| | Find out what happened to the old chocolate factory when they moved out of San Francisco. The old buildings were renovated and transformed into a beautiful shopping mall. |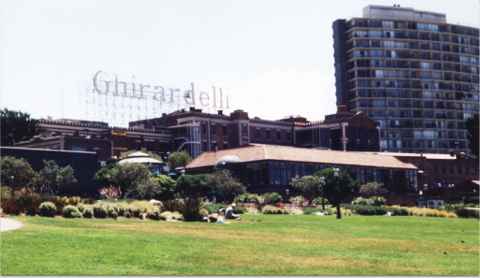 Do you have a sweet tooth?

The old Ghirardelli Chocolate Factory above is located at 415 - 417 Jackson Street. The buildings were built in the late 1850s - 1860s and they survived the Great 1906 earthquakes.

In the early 1960s, the chocolate company was purchased by the Golden Grain Macaroni Company, and moved to a new modern factory in San Leandro, California. The buildings today are on the National Historic Register and can not be demolished or have the faces of the building changed.

The famed Ghirardelli chocolate's can still be purchased here. Today the Ghirardelli Square is filled with many shops and fine restaurants.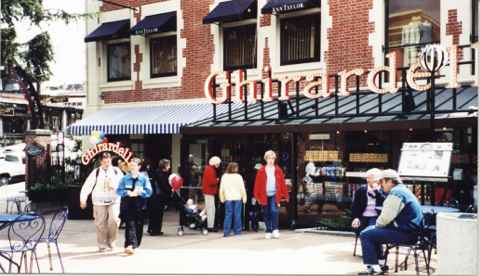 The picture above shows the entrance from Larkin Street, it is located on the east side of the Square. The Ghirardelli Square covers one city block and it is bordered by Larken Street, Polk Street, Beach Street, and North Point Street.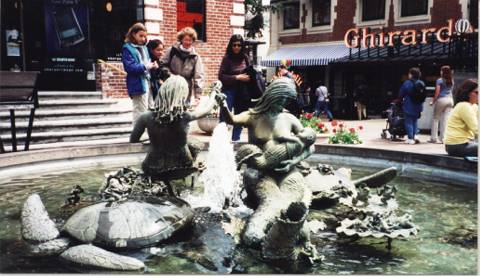 Do you want to make a wish? If you do then you can throw a coin in this fountain and make one. Years ago the former employees could take their breaks or eat their lunch under fruit trees in this beautiful courtyard.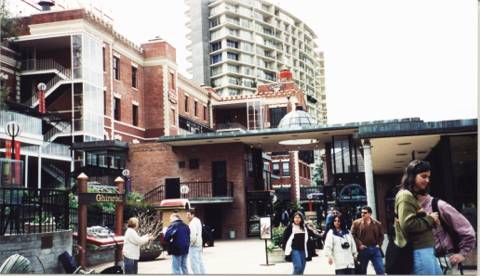 When you get to Ghirardelli Square your first stop should be the information booth which is located at the west end of Fountain Plaza. Ask them for a free walking tour map. You can start the self-guided tour at any of the banner poles which have plaques on them with the history of Ghirardelli Square.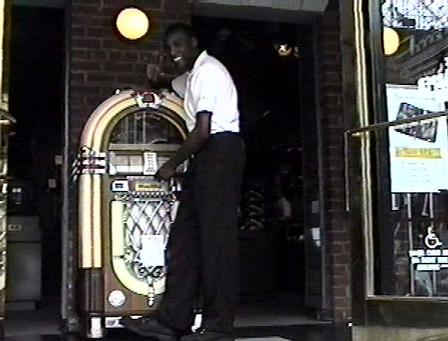 This guy is really enjoying the old tunes on this old jukebox. It is located close to the Mermaid Fountain.

In 1962 the entire block was purchased by two prominent San Franciscans, they feared that the block would be demolished and replaced by a large modern apartment complex. For the next two years the buildings were restored and converted into a large shopping complex. This was the best way to use the buildings and not destroy their appearance.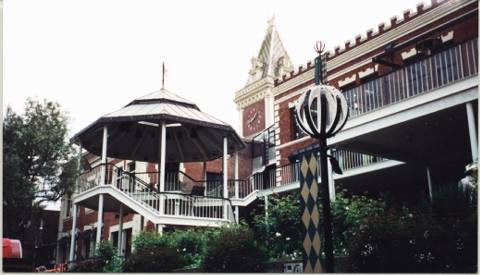 On November 29, 1964 the large Ghirardelli sign blazed out once again, greeting ships as they enter the bay. The new shopping mall has a brick-terraced courtyard with many shops and fine restaurants.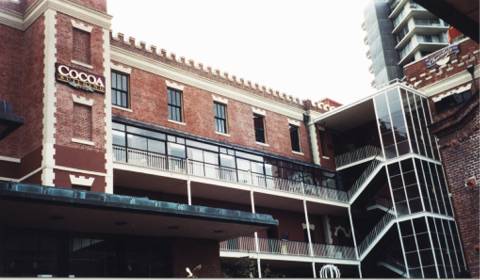 The Cocoa Building was the heart of the Ghirardelli chocolate process, Ghirardelli developed a process where he made dry, powdered chocolate. Ghirardelli attained a patent on this process and the old 1860 cast iron chocolate grinder is still operating in the Ghirardelli Chocolate Shop.
---
The next stop on my Photo Tour is the "Hyde Street Pier", to go there Click Continue Tour below.
---
---
Copyright © 1998-2001 www.SFPhotoTour.com
All Rights Reserved

Photographed and created by David T. Smith