| | |
| --- | --- |
| | Outdoor ice skating in San Francisco? They use large portable freezing equipment to freeze the water because it very seldom ever gets below freezing in San Francisco. |
November 12, 2003 - January 4, 2004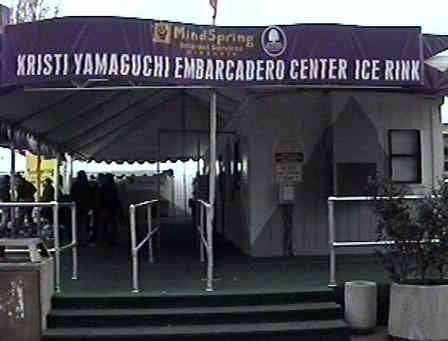 The Ice Skating Rink is located at the far east end of Market Street, in the Embarcadero Center. Tickets may be purchased on-site for same day sessions. Skating is on an as-available basis.

For advance reservations call 415/772-0500.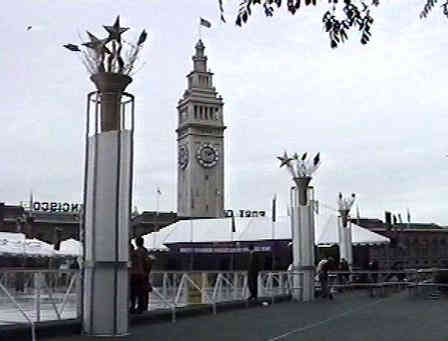 Prices for a 90 minute skating session

Adult $7.00 admission
Children 8 and under $3.50
Skate rental $3.50.

Open 10:00am - 10:00pm daily and until 11:30pm Friday and Saturday.

Fifty cents of every adult admission is donated to San Francisco Recreation & Parks Youth Programs.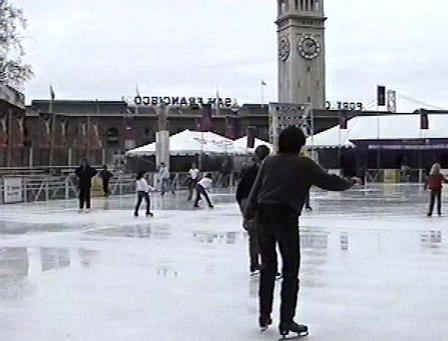 Do you need to learn how to ice skate?

They have a Skating School.
Group session and individual classes are available through out the season. Classes are held on, Tuesday and Thursday late afternoons and Saturday mornings.
Call (415/772-0500) or check at the rink for more information.
It never gets cold enough to freeze water in San Francisco, they use special refrigeration equipment to keep the water frozen. It does get cold here but not cold enough to snow, but sometimes they haul snow in from the mountains for the kids to play in.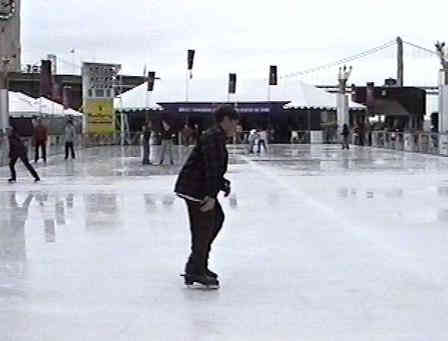 They now have a permanent ice skating rink at 4th and Howard street near the new Carrousel that opened on October 17, 1998. The new ice skating rink can be found by climbing the steps by the Carrousel and then go left to the Zeum store and the ice skating rink is in the building just across from there.
---
The next stop on my Photo Tour is "Chinatown", to go there Click Continue Tour below.
---
---
Copyright © 1998- www.SFPhotoTour.com
All Rights Reserved

Photographed and created by David T. Smith