| | |
| --- | --- |
| | They may not have every animal in the world, but they have quite a few, and some of them you can pet. |
---
"Bird Show"
The Bird Show is located in the Bird Theater and they have three shows daily at: 11:30 a.m., 1:30 p.m., and 4:30 p.m.. The length of all shows at Six Flags Marine World are approximately 20 to 30 minutes.
The American bald eagle comes swooping down from the back of the theater and it passes just above the spectaters heads. The bald eagle is not actually bald, it has white feathers on its head, neck, and tail.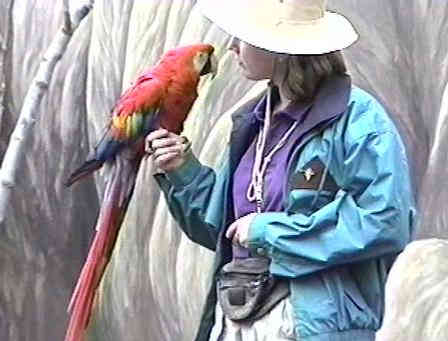 The Macaw is a large parrot that is native to South and Central America. Some of the birds in this show talk, sing or whistle. One of the smaller parrots whistled the tune from the Andy Griffith TV show.
---
"Wildlife Theater"
Show Times: 12:30 p.m., 3:00 p.m., and 6:00 p.m.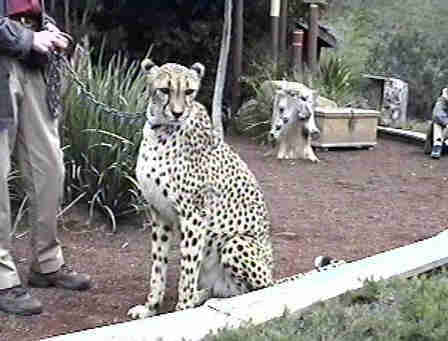 Beautiful exotic and native animals featuring a wallabie, porqupine, monkey, and cheetah. None of these animals perform any special tricks, but it is fasinating to learn about them, and their habits.
---
"Kangaroo and Wallabie Exhibit"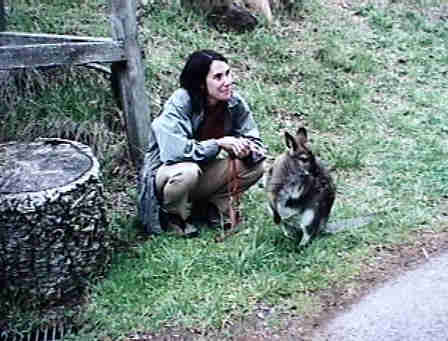 This is not a baby kangaroo, they are called wallabies, and this one is full grown with a baby in its pouch. They have two different breeds of them, the smaller ones are called Bennetts', and the larger ones are called Drama. Their heights are from one foot to three feet tall. If you hang around after the show you may get to pet some of the animals.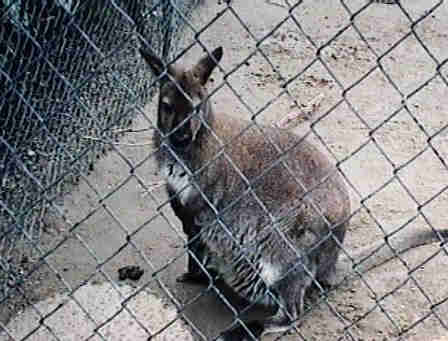 There are two breeds of kangaroos here, the red and the gray. Now you can tell the differance between kangaroos and wallabies. If you didn't pet the wallabie at the Wildlife Theater, then you missed out, all of this exhibit is behind a tall fence. The exhibit is open all day long. If you realy want to pet animals then go to the Gentle Jungle Petting Corral, which is open from 11:00 a.m. to 6:00 p.m..
---
"Elephant Rides"
Open: 12:00 p.m. - 4:00 p.m.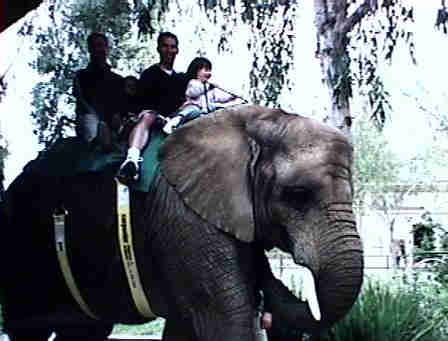 If you ever wanted to ride an elephant then here is your chance. The ride lasts about 5 minutes and it costs $5.00 for each person to ride. Elephants in the wild usualy travel about 15 miles in a day, and this is one way they get their excercise.
---
"Elephant Encounter"
Show Times: 11:30 p.m., 2:00 p.m., and 4:30 p.m.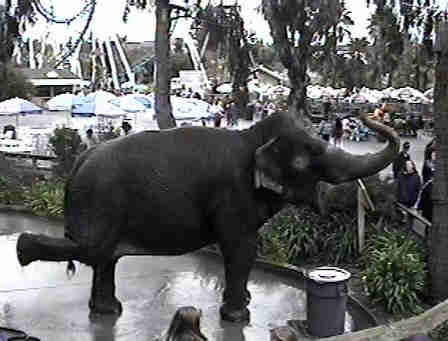 This is not a part of the Elephant Encounter Show, but this elephant is getting a shower so it will be pretty for the show. The show demonstrates how strong these pachyderms are. You can see the elaphants all day at a watering hole next to the Elephant Encounter show. You may even see one of them swimming under water with only its trunk exposed.
---
"Lorikeet Aviary"
Open: 11:00 a.m. - 6:00 p.m.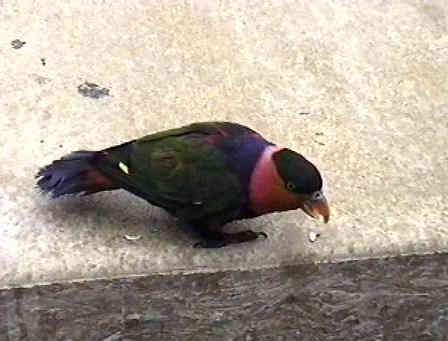 The lorikeet is a bird that is larger than a parakeet and smaller than a parrot. They are keep in a large fenced in cage that you can enter and be close to the birds. For $1.00 you can get a small cup of nectar to feed the birds, and if you do you will have lorikeets land on your hands, arms, shoulders and head so you can feed them.
---
"Giraffe Dock"
Feedings at: 11:30 a.m. and 3:30 p.m.
The giraffe exhibit is open all day long, the same as all the other animal exhibts. They do let people feed the giraffes, and they charge each person $1.00 to do it. They have a sign there that says the giraffes may be kind of impatient.
---
"Tiger Island Splash Attack"
Training Demonstrations at: 12:00 p.m., 3:30 p.m., and 5:30 p.m.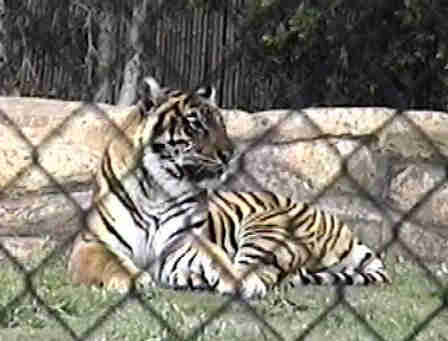 Last but not least, at the very end of the park is the Tiger Island Splash Attack exhibit. There are less than 5,000 tigers living in the wild. Between 2,200 and 3,700 of these are Bengal Tigers. Two small cubs have been added to the exhibit this year.
---
The next stop on my Photo Tour is "My Links Page", to go there Click Continue Tour below.
---
---
Copyright © 1998- www.SFPhotoTour.com
All Rights Reserved

Photographed and created by David T. Smith