The Pacific Ocean is not safe to swim in at Ocean Beach, but find out what else you can do out by the Ocean.
| | |
| --- | --- |
| | Note: People in a wheelchair can get to the beach, but you need to stay on the sidewalk that is on top of the breaker wall. |
Another way to get to Ocean Beach is the #38 Geary - Ocean Beach bus, #31 Balboa bus, or #5 Fulton bus. The bus stops one block away, next to a Safe Way Grocery.
---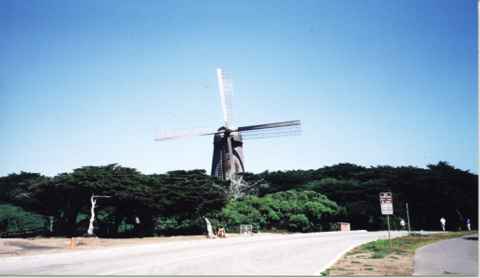 As we head down the hill, off to the left side of the Great Highway, you can see the old Dutch Windmill. On the left side of the windmilll is where the Safe Way Store is located.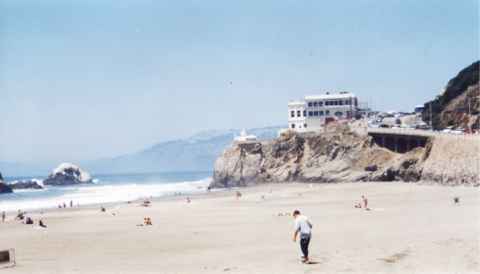 If it is not safe to swim here, then why are all those people surfing here? They are here almost everyday and they know how to get out of the rip tides that can sweep you out into the ocean. They also have a surf board to keep them afloat and a wet suit to keep them warm.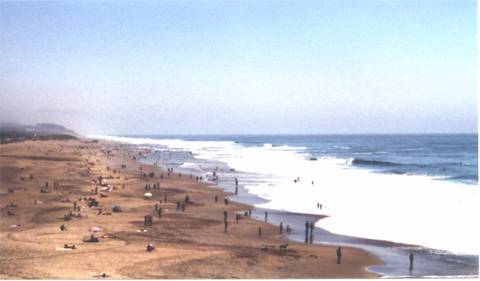 Besides sun bathing on the beach, you could have a picnic lunch on the beach. Just across the Great Highway and one block over is the Safe Way Store with a deli where you could get your food and drinks.

Now let's head part way down the beach to the south. There are four miles of sand shoreline which is almost always windy and wavy.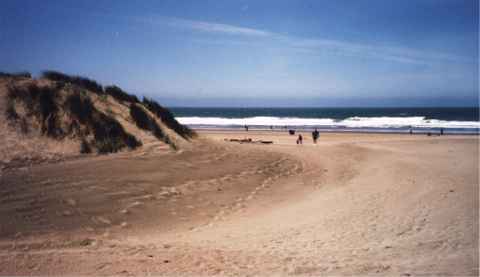 The photo above is near the south end of the beach. What a lot of people do is walk from the Cliff House, next to the water, to this end of the beach. While on their way they look for fancy sea shells or sand dollars.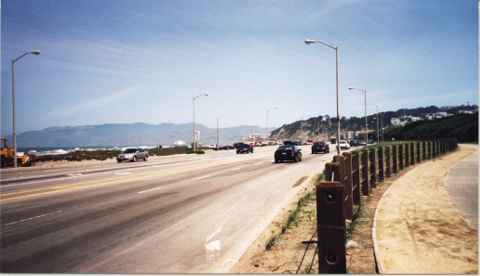 Now let's cross over the Great Highway that runs along-side of Ocean Beach. We are now looking north toward the Cliff House and the Dutch Windmill. On this side of the highway is the west side of the Golden Gate park, we will be headed there on the next stop on my tour.
---
Another way to get to the beach or the Golden Gate Park is to ride the N Judah streetcar from downtown, it stops two blocks away from here on Judah Street.
---
"The Beach Chalet"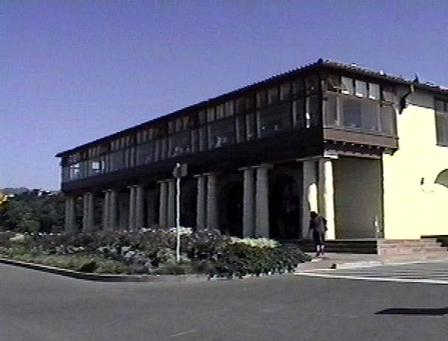 The Beach Chalet was built in 1925, it now houses a restaurant called The Beach Chalet, and the Golden Gate Park Visitors Center. The visitors center features exhibits on park history and ecology. In the lobby is restored murals from the 1930's and beautiful wood carvings. The visitor center is open daily, 9:00 a.m. - 6:00 p.m.; or call (415) 751-2766 for more information.

The Beach Chalet is located at 1000 Great Highway.
Now let's head toward the old Dutch Windmill
---
The next stop on my Photo Tour is "Golden Gate Park and Haight Street", to go there Click Continue Tour below.
---
---
Copyright © 1998- www.SFPhotoTour.com
All Rights Reserved

Photographed and created by David T. Smith