| | |
| --- | --- |
| | Pier 39 is located on the east end of Fishermans Wharf. The old wooden pier extends out over the Bay and it has many specialty shops, restaurants, and attractions built on it. |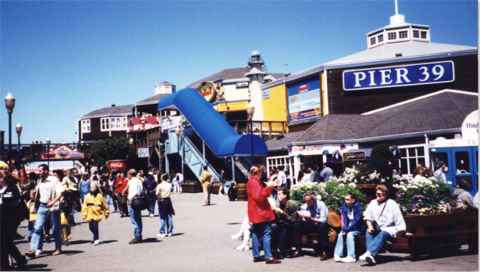 At Pier 39 you can find many fine shops and restaurants. Do you like sea food? The Wharf area has many fine seafood restaurants, you can even buy seafood on the sidewalk.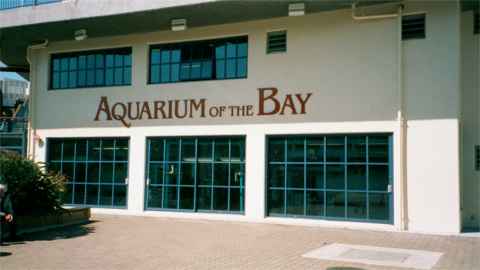 Off to the right side of the Pier 39 Entrance is the Aquarium of the Bay, it has over 300 feet of clear crystal walkway under water, and it has 707,000 gallons of water inside. It cost $12.95 for adults on last check.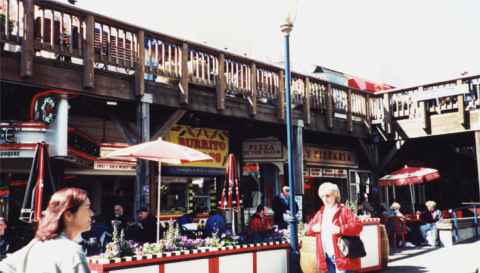 Besides the fancy restaurants at Pier 39 they also have these walk up fast food shops. You buy your food and sit outside to eat it. They are still more expensive than McDonalds.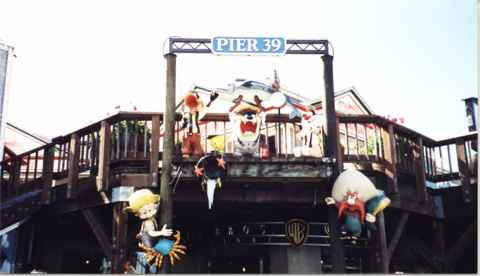 Below these cartoon characters is the Warner Brothers Store. Inside they have any Warner Brother item you may need like T-shirts to more expensive items. They also have a store downtown in the San Francisco Mall, across from the Powell Street Cable Car Turn-around.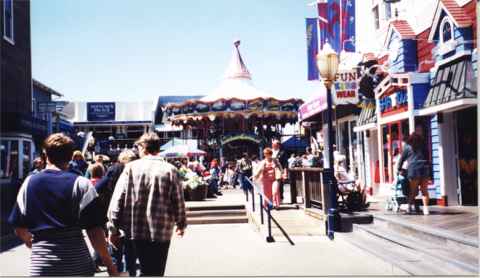 There are four merry-go-rounds in San Francisco, this one is at Pier 39. The second one is at Golden Gate Park, at the end of Haight Street. The third one is located in Yerba Buena Gardens and Center for the Arts, at 4th and Howard Street the fourth one is located at the San Francisco Zoo out by the Ocean.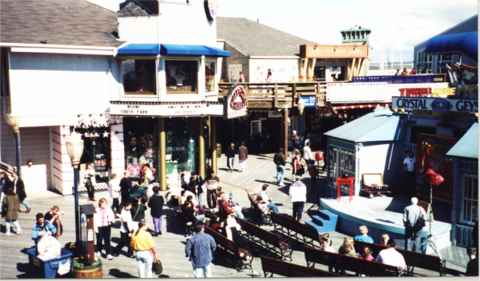 This is one of Pier 39's entertainment areas where the entertainment is free. they put on all kinds of acts here and the people who perform for you don't get paid for the show, but sometimes they pass the hat.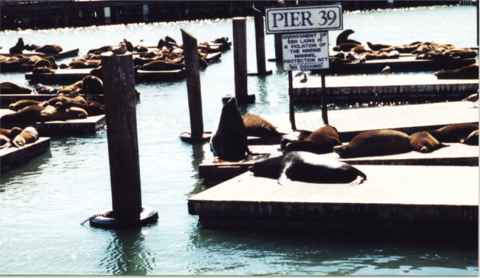 These seals have taken over the docks and they are protected by the sign that is erected there. They do not want you to feed the seals or bother them in any way, in the winter is when you see more of them living here.
A lot of the time you can see them playing king of the dock, you will see one seal shove the others off the dock and not let them back on.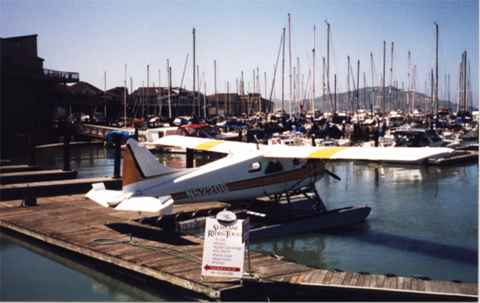 I know I told you this site is designed on how to get around San Francisco cheaply, but if you do have money then you may be interested in this. You can spend some big bucks on a trip around the city by catching this sea plane, I believe they may have helicopters you can fly in also. You can find them about half-way through the Pier 39 complex on the right side in a small ticket booth.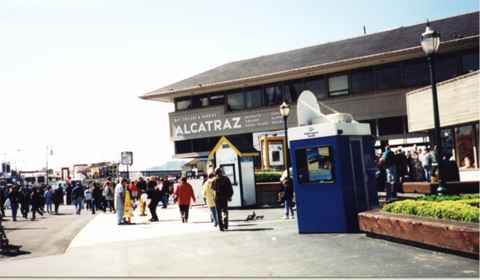 This building is located just to the left of Pier 39's entrance and is where you buy your tickets to Alcatraz Island, Six Flags Marine World, and Angel Island State Park. You can buy your tickets for several other cruises here also.
---
The next stop on my Photo Tour is "Alcatraz Page 1", to go there Click Continue Tour below.
---
---
Copyright © 1998- www.SFPhotoTour.com
All Rights Reserved

Photographed and created by David T. Smith