| | |
| --- | --- |
| | On Wednesday June 16. 1999 the new entertainment complex opened with the Worlds largest 3-D IMAX theater. It is located right next to the Yerba Buena Garden. |
Sony's new $85 million entertainment complex, called the "Metreon", opened Wednesday June 16, 1999. It is located at 4th Street and Mission next to Yerba Buena Gardens lawn. The Metreon covers one third of a city block and is the biggest urban entertainment center of its kind in the world.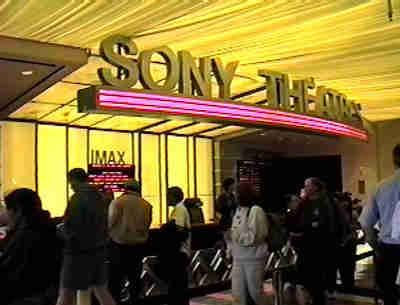 There are 15 movie theaters and the worlds largest 3-D IMAX theater at the Metreon. The screen for the IMAX is 100 feet wide by 80 feet tall. All theaters have stadium seating so everyone can see the whole screen. The 3-D glasses are state of the art electronically controlled by signals sent from each side of the screen. The glasses are adjustable and worn on your head like a hat, and they do not interfere with regular glasses. After the movie you turn them back in at the exit door.
The lobby has a post modern brushed steel look to it and that is not all, there is much more going on at the Metreon than besides just movies. Also in this lobby you can purchase a card for the different attractions including movies and food, you can increase its value at machines located throughout the complex.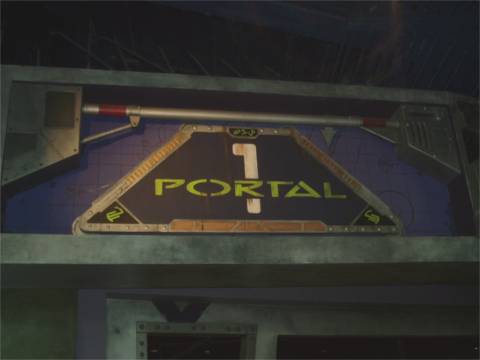 The Portal 1 is a dimly lit cavern with all types of video games, when I first entered it kind of looked like a gambling casino. You do have to have a card to play the games, like the one mentioned previously. The design of the machines is very futuristic and they have a simulator ride where you get in a pod and go into space and compete with other people trying to get the fuel before they do.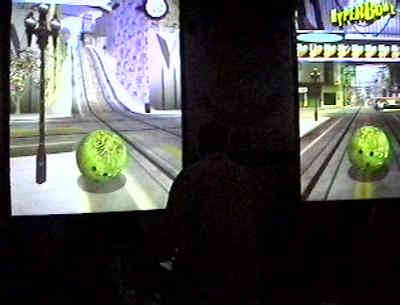 One of the featured games here is "Hyper Bowl", it can be played on smaller screens or the larger projection screens shown above. It does cost more for the larger screen and everyone can watch you play.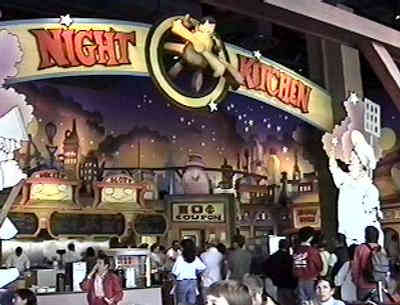 On the fourth floor is the "Night Kitchen" restaurant where you can get almost anything from a peanut butter and jelly sandwich to a gourmet pizza. I don't know how many restaurants are located in the Metreon, but there are several with almost anything you could desire to eat or drink.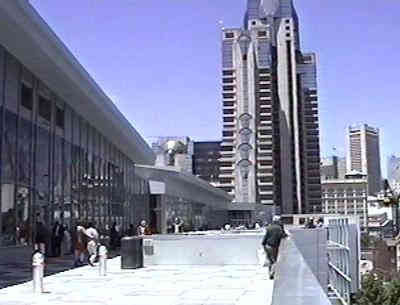 Also on the fourth floor is a large outdoor patio where you can sit outside and eat. It overlooks Yerba Buena Gardens and the Martin Luther King Jr. Memorial Waterfalls. In the picture above the Marriott Hotel is in the background.
On the top floor is a theme park, it is called "Where the Wild Things Are", based on Maurice Sendak's classic children's book.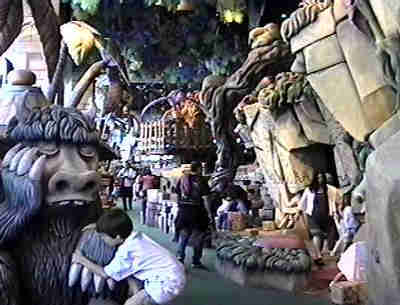 I recommend you visit this area if you have young children. There are tunnels for them to crawl thru, slides and ropes to play on. You can go through with them or by yourself if you like.
The store called Out Of This World is for children. They have toy, games and books for them.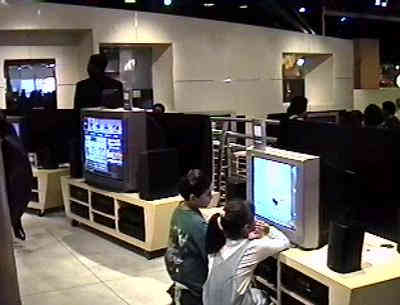 This is the Sony Style Store and they sell, you guessed it, Sony products. They have a section of all the latest products and they have any product that Sony produces for sale here. This section had a Sony Webtv Plus hooked up to the internet and displayed on a large TV. By the way this web site was designed on a Sony Webtv Plus.
At the Digital Solutions Store they sell toys for adults, "The differance between men and boys is the price of their toys". All kinds of gadgets for your computer, MP3 players, Jelly Beans, and games.
At the Sony Playstation store you get about 10 minutes to try the different games and cartridges before you buy them. They have several monitors sitting on a large console with stools to sit on in front of them. For the younger people they have egg-shaped pods for them to sit in front of and enjoy games also.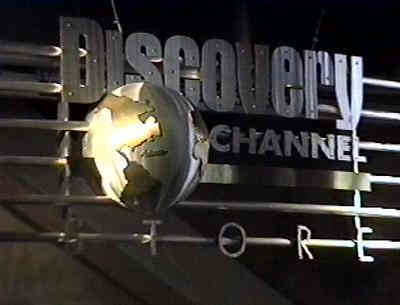 In the Discovery channel store you can shop for gifts for someone or something special for yourself. Unique items from all around the world can be found here.

Another thing you will discover at the Sony Metreon Entertainment Complex is that you could spend the whole day here seeing something new and never see anything twice. When you come to San Francisco I am sure you will want to stop by and be one of the 5 million people they are predicting for each year.

Do you think I told you everything? Give me another year and I will tell you more.
---
The next stop on my Photo Tour is the "Ferry to Six Flags Marine World", to go there Click Continue Tour below.
---
---
Copyright © 1998- www.SFPhotoTour.com
All Rights Reserved

Photographed and created by David T. Smith