If you are in San Francisco on a weekday, you may want to take this one hour trip to Treasure Island.
(Free if you have a MUNI Passport)
The above photo was taken on Treasure Island.
---
You can not catch a bus here on Saturday or Sunday, but you can catch a bus every hour on the hour through the week during the day. It cost $1.00 to go there and you get a transfer to get back. (If you bought a MUNI Passport you can use it.) The ride takes less than 10 minutes and you can be back within an hour from the time you left San Francisco. You can stay as long as you want, but remember the bus only runs every hour.

To catch the bus you can go to Mission Street between Fremont and First Street, the Transbay Terminal is located there. Now go upstairs to Lane #2 and look for the sign with Treasure Island on it, and catch the #108 MUNI bus.
---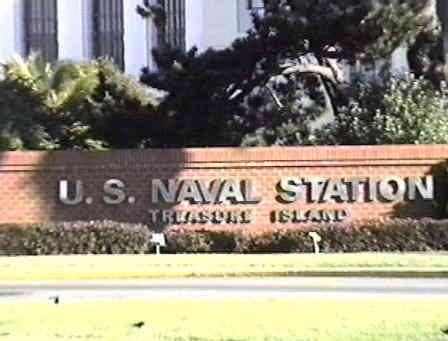 Treasure Island has been closed to the public for around 60 years. (It was a Military Base) On Saturday September 5, 1998 a small portion of the island was opened to the public.

The first day it opened there was a Blues Festival, and lots of food stands. I rode the bus there, the price of a round trip ticket was $7.00. There isn't much to see on the island but military buildings.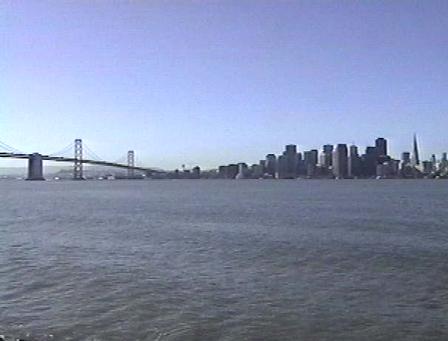 The views of San Francisco, The Bay Bridge, and Alcatraz are great! This really made the trip worthwhile. (Besides the Blues Festival)

The only way to get here is by ferry boat or car. On special occasions they say they will provide bus service. For some of their special events they may charge you $20.00 to park your car.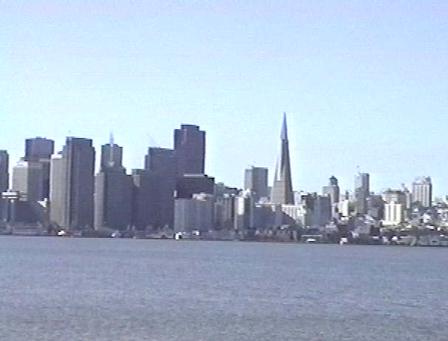 Here is a close-up view of The Trans American Pyramid Building, the tallest building in the city, and the downtown area.

If you look right in the middle along the shore line is where the Ferry Building is located.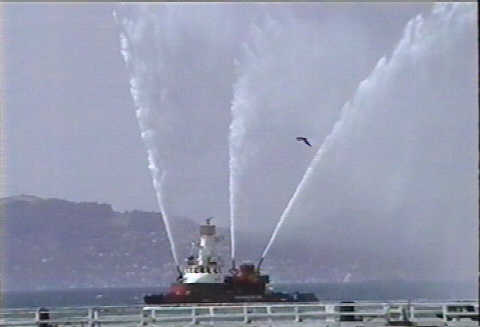 It was very hot that day and just before I left, this fire boat came by spraying water. The wind blew a heavy mist over over the entire crowd, cooling them down. Note: it was salt water.

This is the last photo of my first trip to Treasure Island, the following photos are from my second trip to Treasure Island.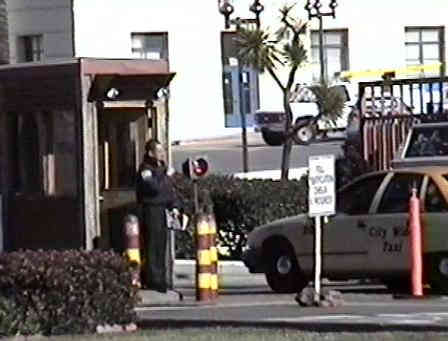 When I arrived this time I was stopped at the entrance gate above and told to get off the bus and I could not enter Treasure Island because it is only open on weekends and there is no bus there on weekends.
The island is just beginning to open to the public and maybe soon we will be able to see the entire island.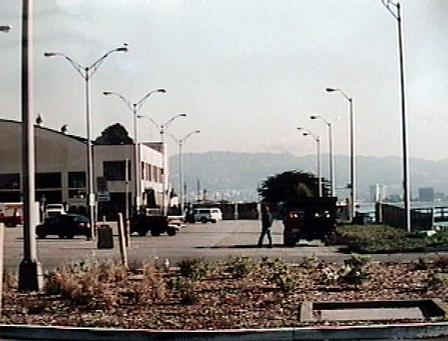 I will keep you updated and tell you when the security guards will let you in to view the island. You can use your Passport from MUNI or for a dollar you can ride bus round trip and take up only 1/2 hour of your vacation. Buses only go there during weekdays and they leave Tranbay Terminal on the hour.
This is our last view from Treasure Island before we hop right back on the bus to San Francisco. We are looking toward Oakland in this photo and you can see the Bay Bridge coming out from Yerba Buena Island. (Yerba Buena Island is not a man made island like Treasure Island and they are connected to each other.)
---
The next stop on my Photo Tour is "Skyline Views of Downtown San Francisco", to go there Click Continue Tour below.
---
---
Copyright © 1998- www.SFPhotoTour.com
All Rights Reserved

Photographed and created by David T. Smith