| | |
| --- | --- |
| | This is one of the largest races held in the world. The reason is only a few of the runners compete to win, the other people only do it for the for the fun of it. |
Sunday, 5/16/2004 San Francisco Bay to Breakers Footrace
The Bay to Breakers Race is a 7.46 mile race from the San Francisco Bay to the Great Highway at Ocean Beach, the runners kick off at 8 am.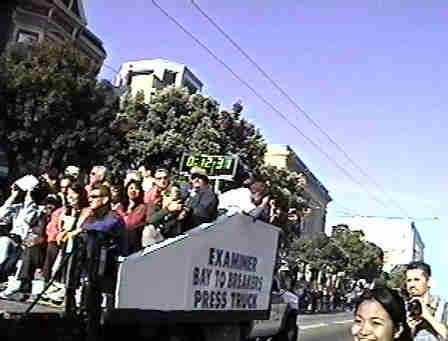 The photo above shows that we are 12 minutes and 30 seconds into the race, the press truck moves just ahead of the lead racer. They are heading up the Hayes Street hill which is at the 2.5 mile mark. This hill usually shows who is going to win the race.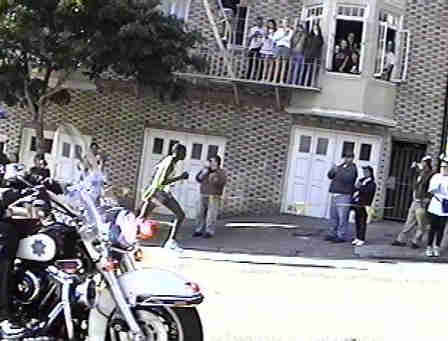 The winning male of this years race was Lazarus Nyakerata of Kenya. He won the race in 34 minutes and 11 seconds. Note: All the pictures on this page are from past years, however the winner of each race is usually from Kenya.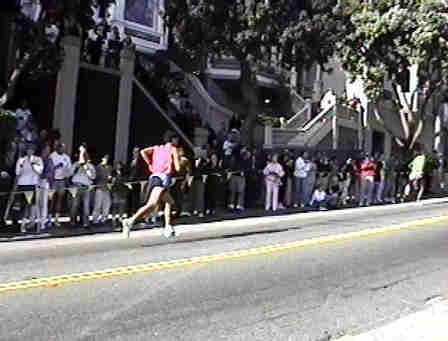 The first person to go over the top of this hill is usually the winner at the end of the race.
The first male and female to cross the finish line on the Great Highway at Ocean Beach win $10,000 plus a pair of open Southwest Airline tickets.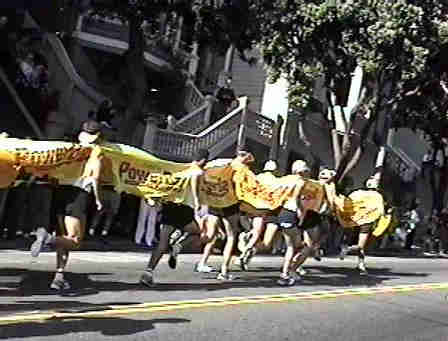 The photo above shows what they call a centipede, a string of 13 men bound together with a yellow banner. This group won the in the centipede class.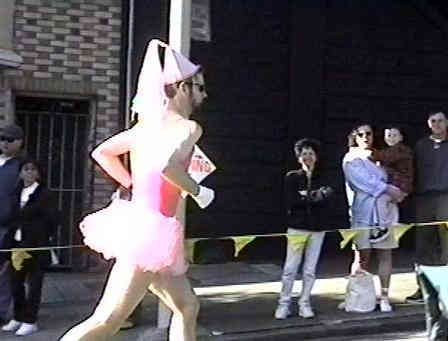 Believe it or not this guy in a pink tutu and conical hat was in the front of the pack of serious runners. In a way he won the race, he was the first person to finish the race in a tutu.
How would you like to tell people you ran across San Francisco nude or while wearing a lamp shade on your head. These are just a few examples but people come from all around the world to participate in the race. Look at the very top center of this photo.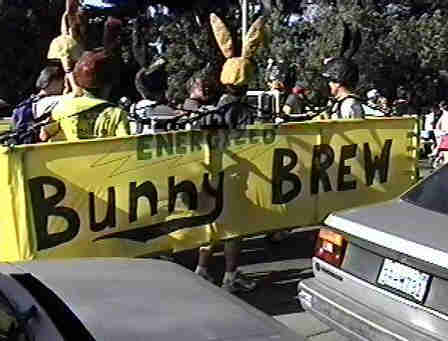 These guys dressed up like bunny rabbits are carrying a keg of beer with them inside the float they are also carrying. I bet the keg gets lighter with each block they cover.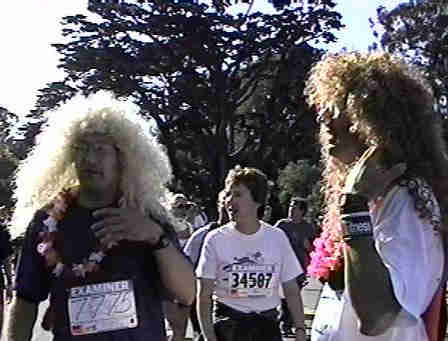 A small portion of the people that run the Bay to Breakers Race are serious, the other 70,000 to 80,000 just do it for fun.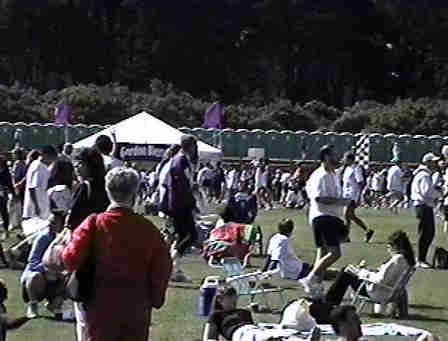 You don't have to run the race to have fun on race day, there is Footstock at the Polo Field in Golden Gate Park. There is free entertainment and lots of different food and drink stands. If you ran the Bay to Breakers Race and was entered, you can pick up your tee shirt here.
---
The next stop on my Photo Tour is "Fleet Week", to go there Click Continue Tour below.
---
---
Copyright © 1998- www.SFPhotoTour.com
All Rights Reserved

Photographed and created by David T. Smith