| | |
| --- | --- |
| | This carrousel was formerly located at Ocean Beach, it has now been restored and placed under a glass dome in Downtown San Francisco. |
This carrousel is located at Howard and 4th Street. It is open on Wednesday, Friday, Saturday, and Sunday afternoon. The building is all glass and is very easy to find.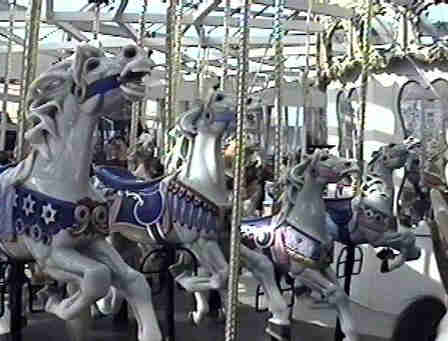 The carrousel was oringialy built in 1903 by Charles I.D. Looff in Rhode Island. It was first used in Seatle until 1913, when Looff moved it to Playland at the Beach in San Francisco. It remained there until they closed the park in 1972.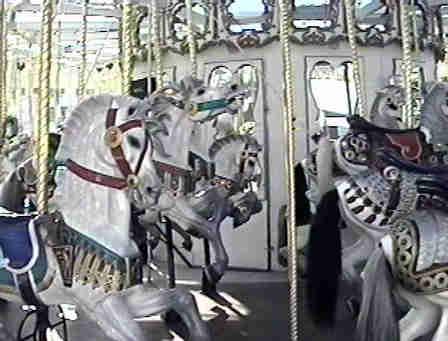 From 1972 until October 17, 1998 the carrousel has been around. It has now been returned to San francisco and restored. The animals on these old carrousels are all hand carved and hand painted. They have real horse hair tails.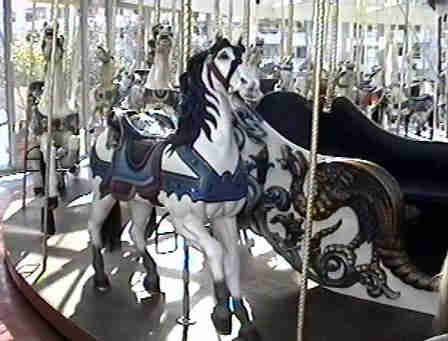 The music for this carrousel is taped and played over speakers. The old music used to be real musical instruments that played mechanically. They worked like a player piano becase they had a paper roll that recorded what to play.
In the old days you could grab a brass ring on your way around, then you would throw it and try to get it into the big clowns mouth. They say they can't do it now because the building is all glass.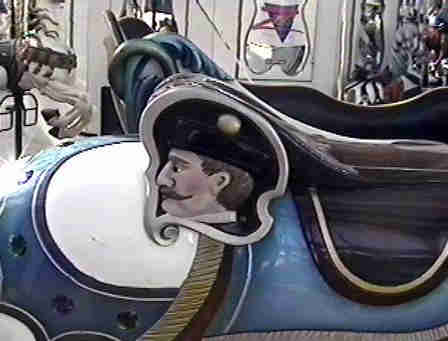 Here is a close up of the saddle on one of the horses. They did a very good job at restoring it. We will check back in the year 3000 to see where it is at then.
---
The next stop on my Photo Tour is the "Yerba Buena Ice Rink", to go there Click Continue Tour below.
---
---
Copyright © 1998- www.SFPhotoTour.com
All Rights Reserved

Photographed and created by David T. Smith