Take a look at a professional size ice skating rink, open to the public year round, and it's located near the heart of Downtown San Francisco.
Note: There is also a bowling alley at Yerba Buna and it is close to here.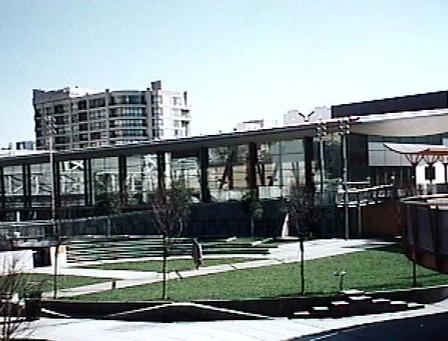 The Ice Skating Center is located in the new section of Yerba Buena Gardens. It is in the center of the block between 3rd and 4th street, and between Howard and Folsom street. Go up the steps by the Carrousel and make a left, go past the Zeum Store, and it is the large building in the center of the Garden.
The Ice Skating Center has a 32,000 square-foot rink with a National Hockey League regulation-size surface for team play and practice, figure skaters, skating exhibitions and general skating.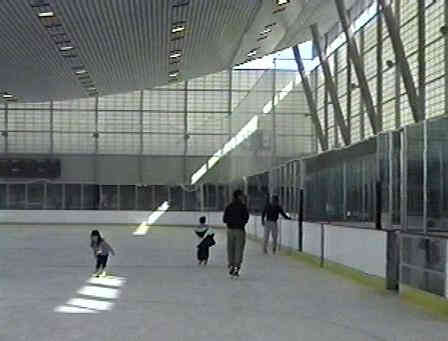 They are open 7 days a week. They have public skating sessions every day from 1pm until about 5pm. On Wednesday,Thursday, Friday, and Saturday evenings there is a public skate from 7:30pm until 9pm. The rink is open from 5:30am until about 11pm every day with special sessions.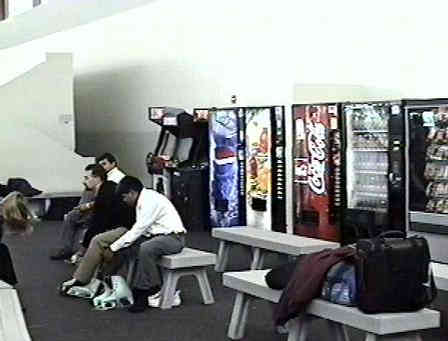 This is the area where you can change into your skates, buy a soft drink, get a snack, or play with a video game.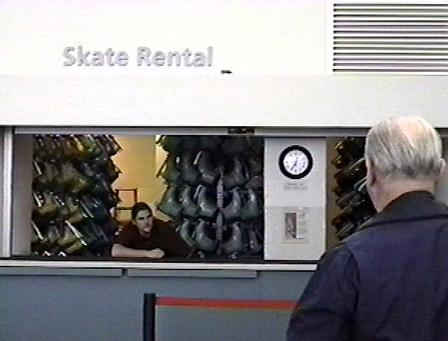 Public Sessions:
Adults $6.00
12 & Under $4.50
Seniors $4.50
Skate Rental $2.50
Wed 7:30 Session Free Skate Rental

They also have a store where you can by profesional ice skates and other ice skating gear. The store is located right at the enterance of the building.

Have Fun!
---
The next stop on my Photo Tour is the "Sony Metreon Entertainment Complex", to go there Click Continue Tour below.
---
---
Copyright © 1998- www.SFPhotoTour.com
All Rights Reserved

Photographed and created by David T. Smith