| | |
| --- | --- |
| | The heart of San Francisco's Gay District is Castro Street. Let's take a look and see what is there. |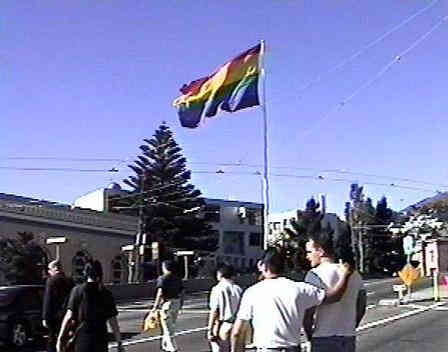 Standing at the foot of the Castro Street District is the largest flag flying over San Francisco. The flag has all the colors of a rainbow, I was told that it means Gay Pride. As you can see the Castro is a very friendly neighborhood, but this is not the only place for gay people in San Francisco. While you are here pick up a Bay Area Guardian or a Bay Area Reporter, they are both free newspapers. Just below the flag pole is the Harvey Milk Plaza and Castro Station for the under ground railway system.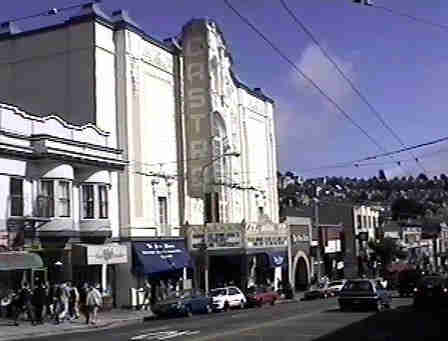 The Castro Theater is the main landmark for the Castro area. Built in 1922 the huge art deco style theater and it's grand old Wurlitzer organ offer a rare experience for movie goers. People come to the Castro Theater from all over, it's a special place for all movie fans, but it's particularly important to the gay community.

Now we will walk about a half block down Castro Street.
Cliff's Variety is more than just a hardware store, it's nickname is the Gay Home Depot. The store has been owned by the same family since 1936. Today they carry over one quarter million different things to buy, from frying pans to a feather balboa, their moto is if we don't have it you don't need it.

Now continue on down to 18th Street and make a left.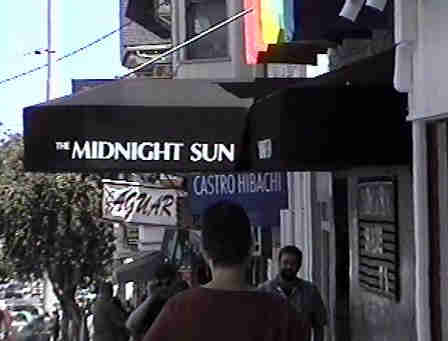 As we walk east on 18th Street we pass the Midnight Sun Bar, in the doorway were two black curtains hanging down blocking my view. I could not see in so I walked behind them and found out they are there to block the sunlight. At each end of a long bar that goes down one side of the room is a large screen TV, they also have regular size TVs around the large room.

In the middle of the room was tall tables for people to stand at while drinking. Around the remaining outer walls were tall benches for people to sit on, the bar tender said they call it the meat rack. While I drank my beer they played short comedy skits from old TV shows like Milton Beril, Lily Tomlin, and the Honey Mooners

Please note: In California you must be at least 21 years old to enter or drink in a bar.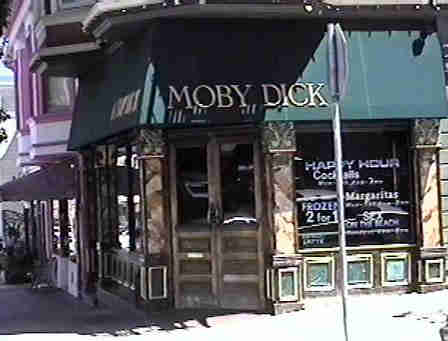 Our last stop on 18th Street is at Moby Dick's at Noe Street. While at the Midnight Sun I found out the Castro District is mostly populated by gay men, and if you continue on down 18th to Dolores Street the female lesbian area begins. I also found out that the bars in the Castro cater mostly to gay males, and they become very busy during cocktail hour's and on the week end.

Now we will cross over to the other side of 18th and head back toward Castro Street.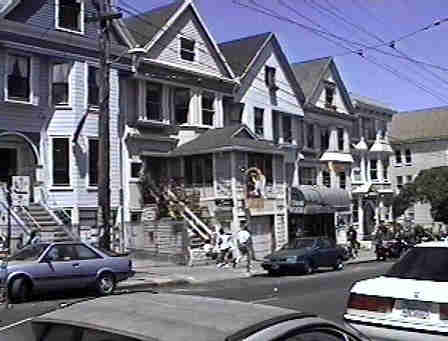 The Castro hasn't always been primarily gay, in the late 1800s it was home to working class immigrant family's like Scandinavian, Irish, and Italian, many of their large victorian homes still stand today. After World War II many of the families moved to the suburbs, by the 1960s the Castro was loosing it's luster, houses were falling in disrepair.

Beginning in 1967 during "The Summer of Love", free spirited young people from through out the country flocked to San Francisco's Haight Ashbury District. At the time some of the gay people decided to settle elswhere in the city. Soon the Castro was transformed with new paint and wave after wave of newcomers.

Now head back to Castro Street.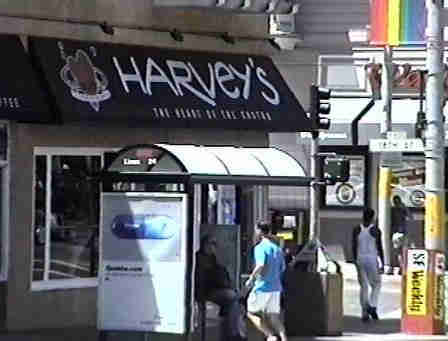 When you get back to Castro Street there ia a restaurant called Harvey's, if you look on the window you will see a heart, this means you are in the heart of the Castro. I have heard that the food at Harvey's is quite good and their specialty is breakfast.

Before you cross the street to Harvey's make a left at Castro and walk about a half a block.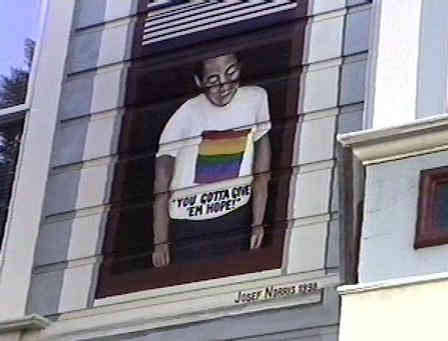 As you walk along stop at 575 Castro Street, look up and you will see a mural painted on the front of Harvey Milk's old Camera Shop. Harvey Milk was the first openly gay man to run for a major public office, he won a position on the board of supervisors in 1977.

In 1978 Harvey, along with Mayor George Moscone, were assinated by former supervisor Dan White, all because Mosecone refused his request for reinstatement. Dianne Feinstein took over as the city's mayor and is now a U.S. Senator. Feinstein is supportive of alternative lifestyles and reproductive rights.

There are a lot of shops and antique stores in this area, take a look when you come to San Francisco. Now let's head back to the trolley car line where we got off.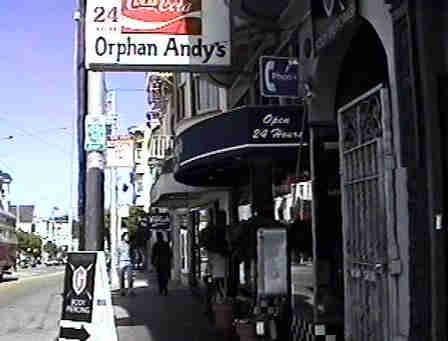 Just across the street from the trolley car line is Orphan Andy's Restaurant. The Castro Area has many fine restaurants and everyone is welcome, if you just want a nice jucey hamburger Andy's is the place to get it, they also feature a full menu and they never close.

Now walk straight across the street from Andy's to Market Street.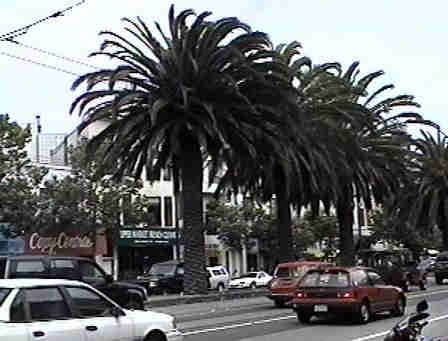 Well we have arrived back at Market and Castro Street. If you liked what you saw in the Castro, you can walk three more block's down this street for more gay oriented shops, restaurants and antique shops. In California a lot of the restaurants serve alcohol and children are permitted to enter them.

Now walk back to the large flag.
If you ever come to San Francisco you can see more of the Castro Area than I could ever tell you about it. Everyone is welcome in the Castro and you don't have to be gay to visit it.

Now we are back where we started at the large flag. This is Harvey Milk Plaza, it is located just below the flag. Looking to the right is the entrance to Castro Station, MUNI's under ground railway station. Let's go in and catch a train going downtown, for this tour we will get off at Powell Street Station.
---
The next stop on my Photo Tour is the "Yerba Buena Garden", to go there Click Continue Tour below.
---
---
Copyright © 1998- www.SFPhotoTour.com
All Rights Reserved

Photographed and created by David T. Smith