| | |
| --- | --- |
| | When you visit San Francisco you must see the Yerba Buena Garden. It is just one block from Market Street, so don't miss seeing it. |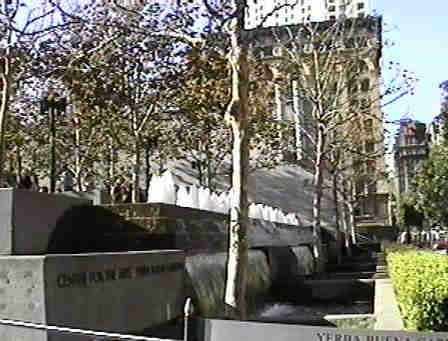 This is the Main Entrance to Yerba Buena Gardens, it is located between Mission and Howard Street on Third Street. There is another large fountain in the middle of the Gardens.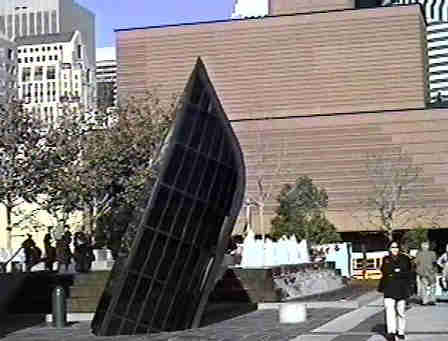 This is one of the many pieces of artwork scattered around the Garden. This is called Ship Sculpture, it is in the East Garden. The Ship is made of glass and metal and inside it there are live plants.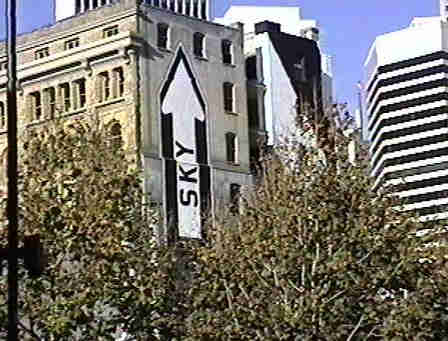 From the glass ship if you look up you can see the Sky. The building in front of you shows you where to look to see the Sky.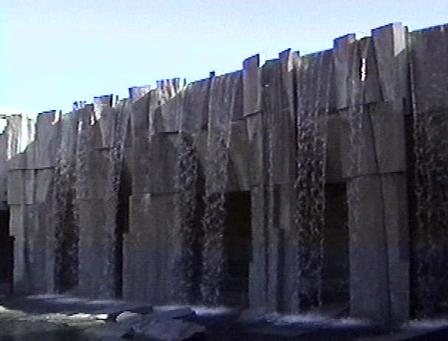 As we walk back into the 5-acre garden we see the most dramatic outdoor art piece a memorial to Martin Luther King Jr. The waterfall was Created by sculptor Houston Conwill, poet Estella Majozo, and architect Joseph de Pace.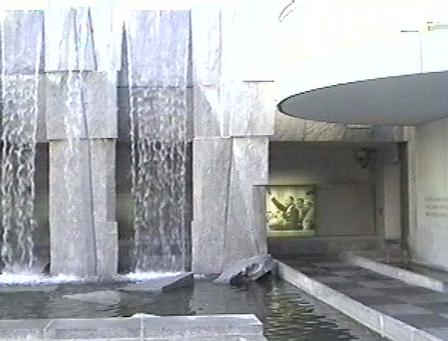 Sheltered behind the 50-foot-high waterfall are 12 glass panels, each inscribed with quotations from King. It is very peaceful here and a good place to just sit, relax, and listen to the water.
When we leave here we will go to the top of the fountain.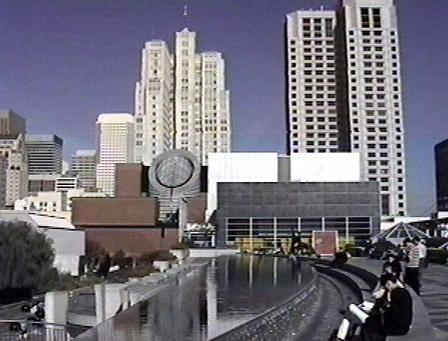 We are now at the top of the Martin Luther King Jr. waterfall. This area is called the Sister City Garden there are several pieces of sculture on display here.

The building at the other end of the plaza is the Center for the Arts Theater which presents music, theater dance, and visual art.

To the far left is the Center for the Arts Galleries & Forum, which features galleries and a space designed specially for dance. They also have cutting-edge computer art and multimedia shows are on view in the high-tech galleries.

The brownish red building with the round skylight is the San Francisco Museum of Modern Art.
This is a full view of the Martin Luther King Jr. Waterfalls from the Sony Metreon. There is a walk way to get up here from Yerba Buena Garden, you can also get several other good views of the city from the large elevated patio.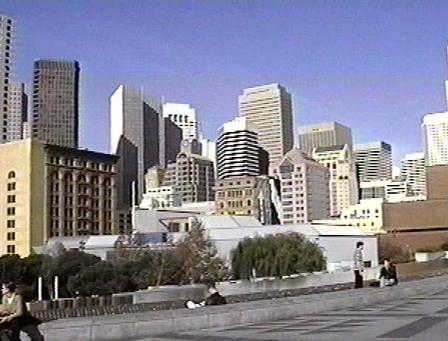 This picture needs no explanation because it is the San Francisco skyline. This is one of the most photographed citys in the United States.
Now if we look to the north you can see the Saint Patricks Church which was built in 1851, and has survived two large earthquakes.(1906 and 1989)

To the right of the church is where they are going to build a new Mexican Museum which is scheduled to open in early 2000. (The old museum is located at Fort Mason) This Garden is a good place for office workers to take their lunch break.
---
The next stop on my Photo Tour is the "Carrousel at Yerba Buena Garden", to go there Click Continue Tour below.
---
---
Copyright © 1998- www.SFPhotoTour.com
All Rights Reserved

Photographed and created by David T. Smith