You should make the Cliff House your main destination if you decide to go out to the Pacific Ocean while in San Francisco. While there you can take a break at the Cliff House, or see a giant camera.
| | | |
| --- | --- | --- |
| | To get to the Cliff House catch the #38 Geary - Point Lobos bus and ride it to the end of the line. Then get off the bus and walk down Point Lobos Street two blocks to the Cliff House. | |
The Cliff House has been serving visitors since 1863. This is a good place to take a break, how about a cocktail, or a soft drink? I like to get a place on the south-west side, so I can see the surfers and the beach. Tell them you would like a place by the window. You can also get food here, if you don't care about the prices and you have the money, this is a very good place to eat. If you want something cheaper then go next door to Pronto Pups for a hot dog or wait till later. I still recommend getting a drink here.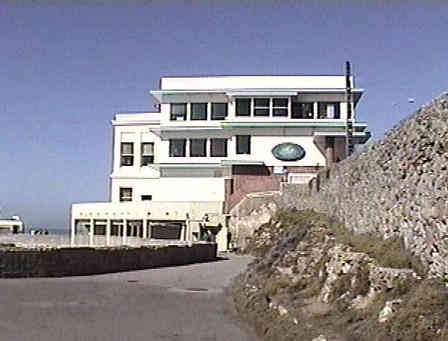 This is the south side of the restaurant and is one way to get to the lower terrace in the back. On the north side of the Cliff House is a stairs that leads down to it and just at the bottom of the stairs is a Information Center for the Golden Gate National Recreation Areas. The Information Center is open daily from 10:00 a.m. - 5:00 p.m..
Please Note: The The Giant Camera at the Cliff House closed on Labor Day September 2, 2002, because the Cliff House is going to be remodled. The Giant Camera will be open after the remodling is complete.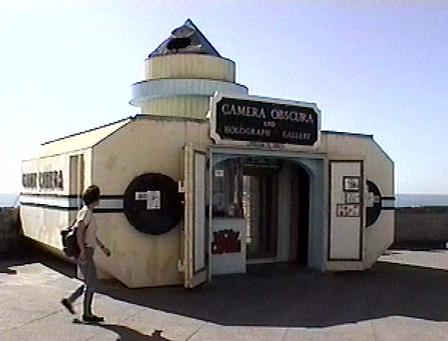 The Giant Camera above is also called Camera Obscura, it looks like a giant camera laying on it's side, the lense is on the top and it uses a reflecting mirror to bend the image down into the camera. I have never been inside to see it but they say the owner is very frindly and may give you a return pass to use whenever you want.
THEN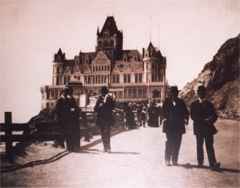 NOW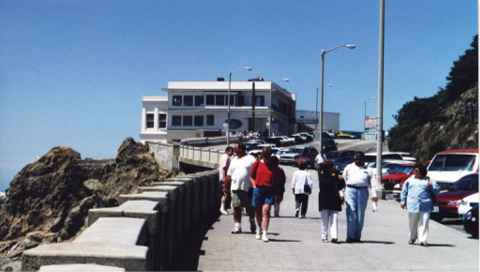 From the Cliff House you can walk down the hill to the beach, it is called Ocean Beach. The water is to cold to swim in, and there are no lifeguards. Several people have drowned here in the past. I wouldn't do more than get my feet wet here.
---
The next stop on my Photo Tour is "Ocean Beach", to go there Click Continue Tour below.
---
---
Copyright © 1998- SFPhotoTour.com
All Rights Reserved


Photographed and created by David T. Smith