| | |
| --- | --- |
| | Take a quick stroll through Fishermans Wharf and see some of the things you can do there. |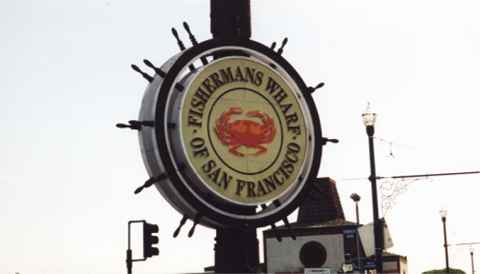 This is the middle of Fishermans Wharf, you can even rent a horse here. There is so much going on here, that you could spend a whole day.

If you are here for more than one day you may want to shop now and buy later. There are shops all over town, and you may see a better deal. Speaking of deals, you can sometimes get merchants to come down on their price, so haggle a little.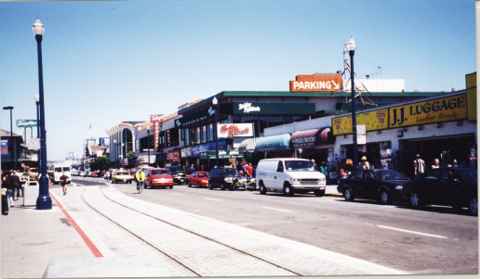 At Fishermans Wharf, this is Jefferson Street, it is the main street thru the Wharf area. Notice the rail tracks on the street, they now have the old Trolley Cars that run from Castro Street all along Martket Street and now all the way to the end of Fishermans Wharf.

Along this street there are a lot of shops, restaurants, the Cannery, and some amusement places including Ripley's Belive It Or Not Museum. The Wharf area is very large so check your map.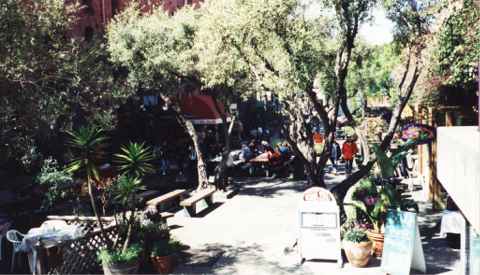 The Cannery (a former Del Monte peach packing plant) is located at Leavenworth and Jefferson Street. It features specialty shops, restaurants.

The photo above shows the large court yard that has tables for dining outside. In the rear near the steps is the Cobb's Comedy Club, they have professional entertainment and some of their shows can be seen on national TV.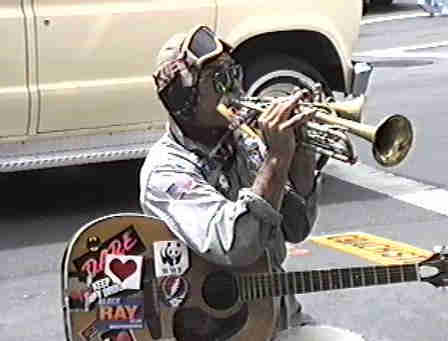 All around the Wharf you will find many entertainers performing their arts. They perform for you and if you watch them give them at least a quarter. A dollar is a good tip if you get your photo with them.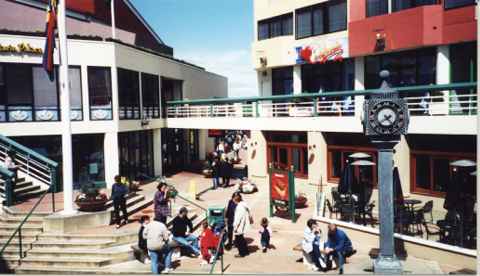 This little shopping complex is called the Anchorage Mall and it has many shops and restaurants just like every place else. If you can't find it what you want at the Wharf you can find it someplace else and probably cheaper.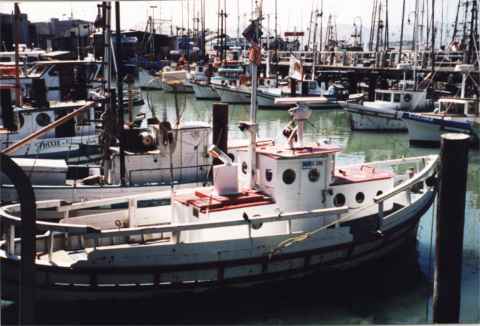 Besides the big ferry boats at Pier 41, look for these smaller boats located at Jones and Jefferson Street. You can take may of the same trips out on the bay and it may even save you money.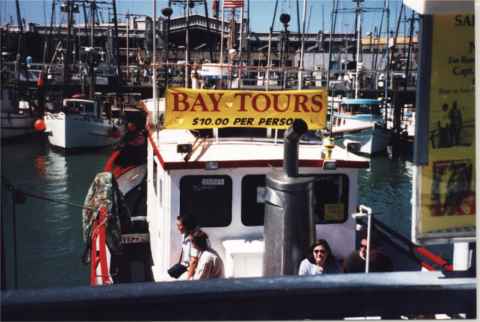 The boat above is offering trips around the bay for $10.00 and they have several others that do the same thing. If you want to go fishing, they also have everything you need and for a 8 hour trip it could cost around $100.00 per person. They may even have deep sea fishing trips available.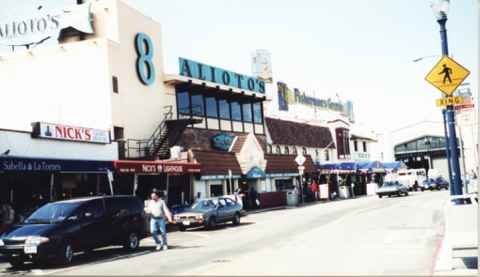 This is just one of the many fine restaurants that you see down in the Fishermans Wharf area. I do not recommend any because if I did and you don't like it I would feel bad, but this one says they have fresh seafood and Sicilian delicacies plus a good view while dining.

I you want to save money and want fresh seafood, the Wharf has several sidewalk vendors with large vats filled with crabs in boiling water. They also serve fresh clam chowder San Francisco style, it is served in a bowl made of sourdough bread.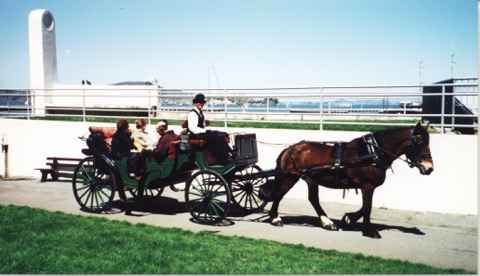 I mentioned earlier that you can even rent a horse at the Wharf, well you can and it cost big bucks to ride these buggies. If you have money to spend then go for it, otherwise take a cab or the bus, it is cheaper.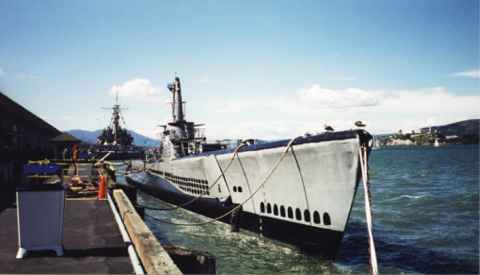 The Pampanito submarine can be boarded for a small admission price. It is a World War two submarine designed for long-range cruises in the Pacific. When you are inside you can tour the cramped living quarters, and see its ten torpedo tubes and a five-inch deck gun. There are several torpedos and various land mines laying on the ground nearby.
---
The next stop on my Photo Tour is "Musée Mécanique", to go there Click Continue Tour below.
---
---
Copyright © 1998- www.SFPhotoTour.com
All Rights Reserved

Photographed and created by David T. Smith