| | |
| --- | --- |
| | Find out what you can do down at the Embarcadero and Ferry Building. |
---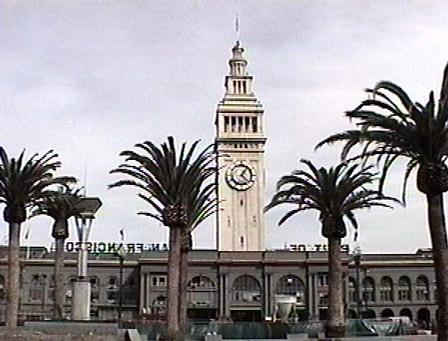 The Ferry Building is located at the foot of Market Street. From here you can catch a ferry to Jack London Square, or many other places around the bay.

The Ferry Building has been restored and now includes many fine shops, restaurants, and cafes. They now hold the farmers market here and you can buy many thing besides fresh produce. The old 235 foot clock tower now works and you can hear the bells every 15 minutes.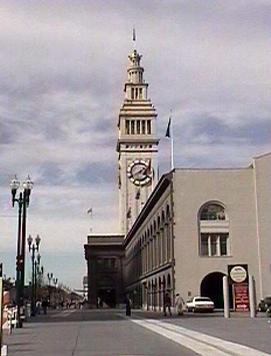 Now we are looking up towards Fishermans Wharf and in the opposite direction is the New Pac Bell Stadium for the San Francisco Giants, they are both about one and a half miles from this point. The streets are lined with palm trees in both directions. The old antique street cars run to Castro Street or to Fisherman's Wharf from here. The farmer's market sets up their stand on the sidewalk infront of the Ferry Building.

Now let's take a look from the pier in the rear of the Ferry Building.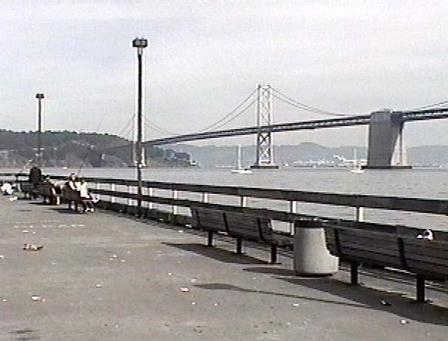 This is the bay Bridge, you can see how it tunnels through Yerba Buena Island. The bridge is one of the main sources of transportation for goods shipped from the East Bay. If I ever want to go over to Oakland, or any place else over there, I take BART our Bay Area Rapid Transit, it travels under the bay through a tunnel from San Francisco.
Off to the left side of Yerba Buena Island is Treasure Island which is connected to it. Treasure Island is a man made island. It was built originally to be an airport, it was taken over by the Navy to become a Naval Station.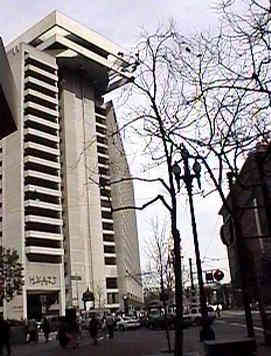 Hotel, at the top you can see a restaurant that turns. You can see some very nice views from there. Let's go in and have a cocktail or a soft drink. Behind the hotel there are many shops and restaurants, they are in a large mall called Embarcadero Center. I have heard that most of the stores cater to the upper class and may be quite expensive.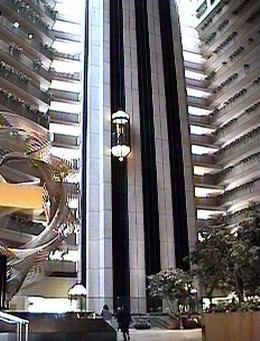 Now let's get an elevator to go up to the restaurant. Notice that the Lobby is almost as tall inside as it is outside. You can get some good video of the Bay and the buildings downtown by just putting your camera on the table and letting it run as the restaurant turns. You may want to set your camera to manual focus before recording, the reason for this is that your camera may focus on the glass and may make your picture blurry.
For more ferry information "click below".
Use your browser "Back" to return here.
Ferry Map
---
The next stop on my Photo Tour is "Treasure Island", to go there Click Continue Tour below.
---
---
Copyright © 1998- www.SFPhotoTour.com
All Rights Reserved

Photographed and created by David T. Smith