| | | |
| --- | --- | --- |
| | Catch any trolley car headed West on Market Street for a trip to the Castro District. If you catch the trolley headed East on Market Street, it will now take you all the way to Fishermans Wharf. | |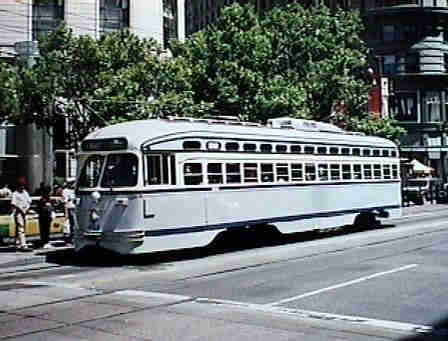 You are now getting on one of San Francisco's historic trolley car's. They have been in operation since the 1930's. We are now headed to Castro Street.
Look out the right side of the trolley, you will see the New San Francisco Mint. There is a Old Mint on 5th Street, but it is closed until they retrofit it for earth quakes.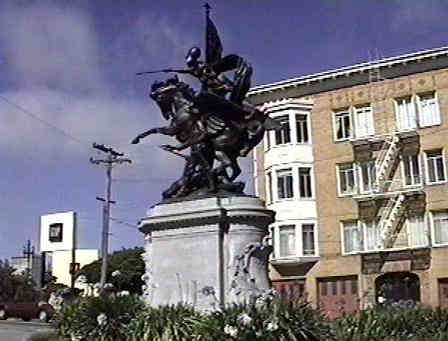 Just aross the street from the Mint is a statue that is at the foot of Dolores Street, two blocks down this street is the Dolores Mission.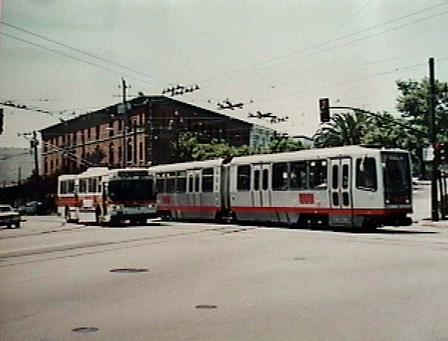 Now let's look out the left side at Church & Market Street. You can see two other ways to get around San Francisco. The electric bus and the electric street cars.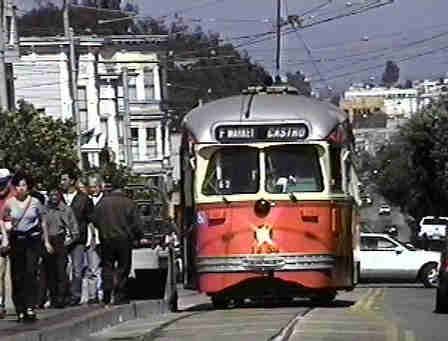 We are now at the end of the line, we are at the corner of 17th Street and Castro Street. Now lets walk over to Market Street and take a look around.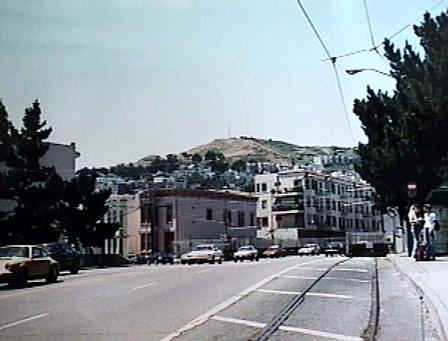 Looking to the west. This is a view of Twin Peaks, from Castro & Market Street. There is a bus stop to the right, it is the #37 Corbett. I have never ridden this bus, but it goes pretty close to the top. Ask the bus driver where to get off.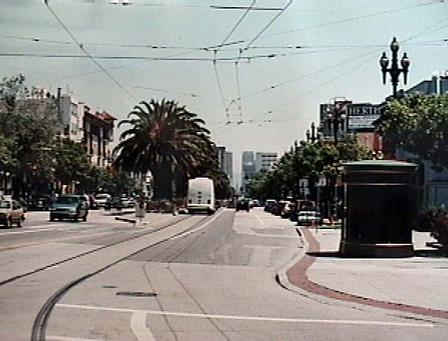 This is a view to the east from Castro & Market Street. To the right you see a dark green object, it is one of our outdoor pay toilets. It cost 25 cents to use, and each time someone uses it, it self-cleans, even the floor.

There are many shops and restaurants between here and Church Street. If you walk to Church Street, there is a MUNI stop there for the trolley or the subway, to get back downtown. You can also catch them both here.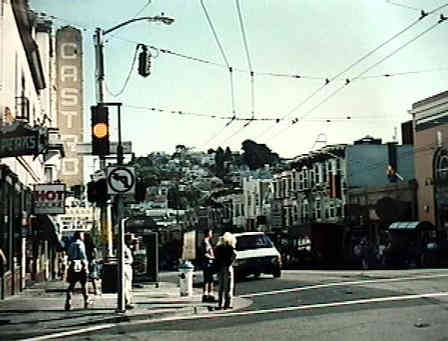 Looking south from Castro & market Street is the Castro District. Notice the rainbow colored flags, they are a gay symbol. This area of the city is mostly gay. The Castro area is not the only gay area, they are all over the city. Over 15% percent of the people in San Francisco are gay. This area is no different than any other area of the city, feel free to shop and eat anyplace in the city.
---
The next stop on my Photo Tour is "Castro Street", to go there Click Continue Tour below.
---
---
Copyright © 1998- www.SFPhotoTour.com
All Rights Reserved

Photographed and created by David T. Smith